Nintendo Switch Holiday Experience
Now through December 16, 2018
|
Level 3 Center Court, near Champs
---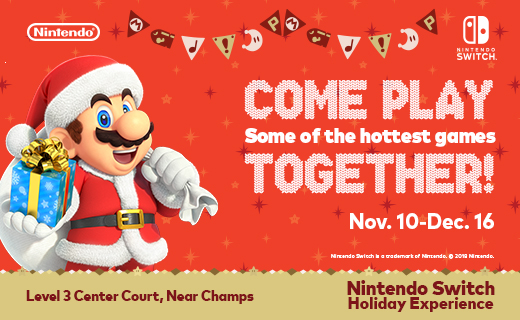 The Nintendo Switch Holiday Experience is a vibrant family-friendly space that invites fans of all ages to stop in and experience all things Nintendo and get recommendations about what Nintendo products to buy for their friends and family members this holiday season.
Hours: Monday-Thursday 4-9pm, Friday 3-9pm, Saturday 10am-9pm, Sunday 11am-6pm
Santa Parade
Now through December 24, 2018
Be part of the Queens Center HGTV Santa HQ Holiday Parade, November 17 from 11am – 2pm! Bring ...
Photos With Santa + Free Gift
Now through December 24, 2018
Visit Santa for photos and a free gift! Santa will be available for photos and visits at hisHeadqu...